New Federal Regs Target Gender Bias
Author: D. Kelly Weisberg.
Source: Volume 21, Number 03, February/March 2016 , pp.33-36(4)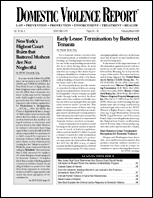 < previous article |next article > |return to table of contents
Abstract:
The Department of Justice (DOJ) recently released new guidance to assist law enforcement agencies to prevent gender bias in the police response to domestic violence and sexual assault. Here the author reviews the notable points in the guidance including the definition and examples of gender bias, the eight principles law enforcement agencies should consider when developing their policies, training, and supervision protocols, and critical commentary on the strengths and weakness of the report.
Keywords: discrimination by police; reluctance to report; recognizing gender bias; "hidden victims"; specific practicesto improve handling of complaints; understanding lethality factors; properly identifying the assailant; strangulation; "batterers in bl

Affiliations: 1: Journal Editor, DVR.