The Secret Epidemic of Police Domestic Violence: How It Affects Us All
Author: Alex Roslin.
Source: Volume 21, Number 03, February/March 2016 , pp.33-39(7)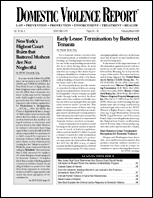 next article > |return to table of contents
Abstract:
Evidence suggests that a staggering amount of domestic violence rages behind the walls of cops' homes, while most police departments do little about it. In the vast majority of cases, cops who hurt a family member do so in utter secrecy, while their victims live in desperate isolation with very little hope of help. Frequently the characteristics of such abusers pervade other job behaviors that touch us all and the way we live making addressing the issue all the more critical.
Keywords: barriers to finding help, safety, and justice; career repercussions to abused policewomen vs policemen abusers; closed-door disciplinary hearings instead of criminal proceedings; de facto license to abuse; Prone to Other Misconduct; code of silence;

Affiliations: 1: investigative journalist and author.