Advocates and Service Providers Criticize Police Response to Victims
Author: Sandra S. Park.; Donna Coker.; Julie Goldscheid.
Source: Volume 21, Number 03, February/March 2016 , pp.35-38(4)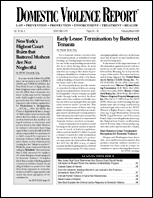 < previous article |next article > |return to table of contents
Abstract:
A recent study highlights the existence of widespread discrimination by law enforcement faced by survivors whose findings stress the need to address gender bias, domestic violence, and sexual assault as key elements of broader police reform efforts. The survey asked respondents for the primary reasons that survivors fail to call or cooperate with police, the extent to which inappropriate police conduct is a problem in responses to incidents of domestic violence andsexual assault, and the extent to which police biases influence the effectiveness of the law enforcement response. The survey also solicited information about current community efforts to address law enforcement response to domestic and sexual violence.
Keywords: barriers to seeking criminal justice intervention; police inaction, hostility; dismissive; victim-blaming; negative collateral consequences; improving police response; accountability for law enforcement misconduct

Affiliations: 1: ACLU Women's Rights Project; 2: University of Miami School of Law; 3: University of New York School of Law.