Strategies for Survivors of Domestic Violence: Enhancing Safety and Exit Planning
Author: Rose Garrity.
Source: Volume 20, Number 05, June/July 2015 , pp.70-71(2)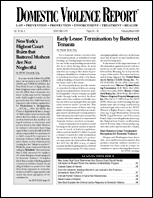 < previous article |next article > |return to table of contents
Abstract:
Here is a useful review of the elements of an effective safety plan, addressing the critical processes for survivors fleeing with children, pets, and essential personal belongings. Advocates and survivors must work together closely to formulate a plan for each step: while advocates have the expertise and detachment needed to plan carefully and thoroughly, it is the victim who often knows best what is and is not safe for her to do.
Keywords: key events, cues, and code words; trusted family members; court orders of protection, emergency custody orders; legal advocacy; long-term planning

Affiliations: 1: National Coalition Against Domestic Violence.