What Can I Do? Advice to Help Keep Friends and Loved Ones Safe
Author: Gretchen Shaw.
Source: Volume 20, Number 05, June/July 2015 , pp.68-69(2)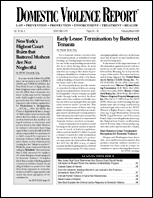 < previous article |next article > |return to table of contents
Abstract:
Gretchen Shaw, Development Manager for NCADV, shares some do's and don'ts when reaching out to a loved one who may be dealing with domestic violence. In her work with the National Coalition Against Domestic Violence, Ms. Shaw has sought out and compiled advice learned from experts around the country, as well as from the experiences of victims. The result is a uniquely practical set of guidelines for anyone seeking advice on how to help someone who is enduring abuse.
Keywords: resources to provide advice and guidance; vitimized physically, psychologically and emotionally; confidentiality; self-esteem

Affiliations: 1: NCADV.