National Coalition Against Domestic Violence: Who Are We?
Author: Main Office NCADV .
Source: Volume 20, Number 05, June/July 2015 , pp.71-71(1)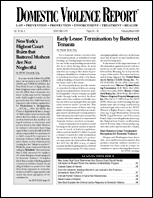 < previous article |next article > |return to table of contents
Abstract:
An introduction to the many and varied resources, materials, projects, programs, and collaborations provided and in process at the NCADV. The National Coalition Against Domestic Violence (NCADV) is a national organization that has worked since 1978 to raise awareness about domestic violence; to lead and infl uence policy at the national level; to educate and create programming and technical assistance; to assist the public in addressing the issue; and to support those impacted by domestic violence.
Keywords: Theresa's Fund; promote legislation; medical treatment or services to repair injuries; Remember My Name; economic self-sufficiency; Reproductive Coercion

Affiliations: 1: .