Update on the NFL
Author: Casey Gwinn.
Source: Volume 20, Number 03, February/March 2015 , pp.33-34(2)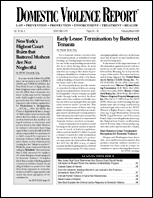 < previous article |next article > |return to table of contents
Abstract:
For Troy Vincent, the NFL's Executive Vice President of Operations, domestic violence was a way of life in his home growing up. It was a powerful, honest self-disclosure from an important NFL executive. In the last issue of DVR , we laid out the potential of the NFL to lead a massive social change effort around domestic violence and sexual assault, invest large amounts of money in the process, and help reshape our society's response to violence against women. Have any of the recent actions of the NFL come close to the scope of change we envisioned there? Is there evidence that the NFL truly wants to move the dial in the culture? Or is the NFL simply focused on small-scale efforts to repair its image, make minor changes in its policies, and placate key constituencies? This article looks at the key elements in the NFL's two recent press announcements to answer those questions.
Keywords: Ray Rice; National Domestic Violence Hotline; National Sexual Violence Resource Center; No More Campaign; Personal Conduct Policy; NFL Special Counsel for Investigations and Conduct

Affiliations: 1: former elected City Attorney of San Diego.