Online Stalking and the Supreme Court: Free Speech in the Digital Era
Author: D. Kelly Weisberg.
Source: Volume 20, Number 03, February/March 2015 , pp.33-36(4)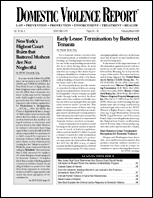 next article > |return to table of contents
Abstract:
When unfriending simply isn't enough - Tara Elonis sought and obtained a protection order against her ex-husband based on extremely graphic Facebook posts detailing the many ways that he was thinking of killing his former spouse. The Elonis case clarifies, and, in the process, tests the limits of the "true threat doctrine" which constitutes an exception to the First Amendment. A "true threat" need not be carried out, or even intended to be carried out, in order to be considered harmful. Such threats cause harm merely by virtue of their existence.
Keywords: Elonis v. U.S. , 730 F.3d 321 (3d Cir. 2013); social networking; Facebook; First Amendment; U.S.C. § 875(c); Virginia v. Black , 538 U.S. 343, 359-60; People v. Sucic , 928 N.E.2d 1231, 1238 (Ill. App. Ct. 2010)

Affiliations: 1: Journal Editor, DVR.