Innovative Perspectives on Domestic Violence: Using a Human Rights Framework
Author: Charlotte Cassel.; Dan Kinney.; Caroline LaPorte.; Maxim Tsoy.
Source: Volume 20, Number 03, February/March 2015 , pp.35-40(6)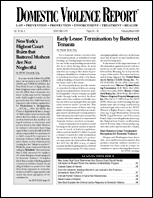 < previous article |next article > |return to table of contents
Abstract:
Many localities across the United States have begun passing local resolutions (DV-Human Rights Resolutions) that recognize freedom from domestic violence and/or violence against women as a fundamental human right. The case of Jessica Lenahan illustrates the systematic failure to adequately protect Jessica Lenahan and her daughters from her estranged husband. Since the Commission issued its decision in Lenahan in 2011, certain measurable steps have been taken toward implementation of the IACHR recommendations at the national, state, and local levels. This article next highlights several innovative approaches to domestic violence advocacy that rely upon a human rights framework.
Keywords: Lenahan v. U.S.; Town of Castle Rock v. Jessica Gonzales; United Nations Human Rights Committee; International Covenant on Civil and Political Rights; Department of Justice roundtable discussion on Domestic Violence, Sexual Assault, Non-discriminatio

Affiliations: 1: Florida Legal Services; 2: University of Miami; 3: The Wright Firm L.L.P.; 4: Joli Law Firm.