"Battered Women:" What Does This Phrase Really Mean?
Author: Julie Blackman, Ph.D..
Source: Volume 01, Number 02, December/January 1996 , pp.5-6(2)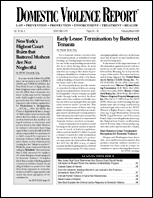 < previous article |next article > |return to table of contents
Abstract:
Knowing the phrase "battered women" does not necessarily enable victims of violence to know that they are "battered." Awareness comes from the willingness to undo denial and to confront the often painful insight that follows. Thus, the use of words does not necessarily imply insight into those words' full meaning. Even a battered woman can talk about "battered women" and not know all of what she means, not know what she does not know.
Keywords: Francine Hughes; "The Burning Bed"; Farrah Fawcett; professionals reinforce lack of awareness

Affiliations: 1: social psychologist.