Assigned Counsel Problems Suggest Solutions
Author: Staff Editors.
Source: Volume 01, Number 02, December/January 1996 , pp.9-9(1)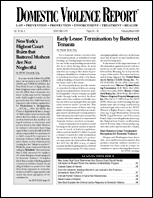 < previous article |next article > |return to table of contents
Abstract:
Domestic violence advocates throughout the country have been eager to find attorneys who will represent battered women, particularly when the women cannot afford to pay them. The State of New York is highly unusual in that it allows courts to appoint attorneys from an assigned counsel panel for indigent petitioners and respondents in domestic violence and custody cases in the family courts. However, a survey done by the New York City Coalition of Battered Women's Advocates found that the assigned counsel program in the City of New York has a number of serious problems which undermine its use and effectiveness, especially for battered women.
Keywords: counsel poorly prepared

Affiliations: .