Elements Of Interpersonal Domestic Violence Torts: Bringing Traditional Actions
Author: Fredrica L. Lehrman.
Source: Volume 01, Number 02, December/January 1996 , pp.3-5(3)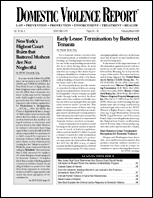 < previous article |next article > |return to table of contents
Abstract:
This article will explores most of the possible actions for filing domestic violence torts against an abuser. Domestic violence tort actions are changing the practice of law in civil courts as new issues in criminal, civil and family law reshape domestic tort law. Several cases are cited in each of several categories. There is a side article, "Attorney's Fee Advantages of Suing in Tort".
Keywords: assault and battery; wrongful death; infliction of emotional distress

Affiliations: 1: Shaw, Pittman, Potts & Trowbridge.