Preventing Homelessness by Empowering Battered Women Through Vocational Opportunities
Author: Alexander V. Tsesis.
Source: Volume 01, Number 05, June/July 1996 , pp.3-5(3)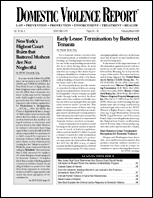 < previous article |next article > |return to table of contents
Abstract:
Homelessness continues to plague many women fleeing from abusive domestic partners. Those women who do not possess the skills necessary to acquire adequately paying jobs cannot afford housing. Often homeless women are accompanied by their children, who fair badly physically, developmentally, and emotionally. Emergency shelters, whether for the homeless or for battered women, alleviate the immediate problems of destitution, but they are often not a means to economic independence and stability. Unemployment and lack of education are two major causes of the homelessness in the United States. Battered women's efforts to work or attend school are often prevented entirely or sabotaged by their abusers, who cause them to be late or absent, or so harass them that they quit or are terminated. The federal government can reduce the number of homeless families by funding vocational training programs designed for the particular needs of battered women.
Keywords: homeless children; vocational training

Affiliations: 1: Chicago-Kent College of Law.