Race Matters: Culture, Negative Culture and Family Violence
Author: Julie Blackman, Ph.D..
Source: Volume 01, Number 05, June/July 1996 , pp.4-5(2)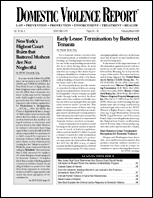 < previous article |next article > |return to table of contents
Abstract:
This is a personal essay by an author investigating the subject of how race factors in (but makes communicating about it problematic) concerning issues of domestic violence. The author notes that "I felt the racism inherent in attention to race when the subject is family violence. I felt the risk of raising issues that I feared would lead others to judge me harshly, to label me a racist…"
Keywords: non-violence associated with whiteness; culture of poverty

Affiliations: 1: social psychologist.