Uniform Adoption Act Considers Domestic Violence in Placement and Termination
Author: Nancy K. D. Lemon, Esq..; Anne L. Perry, Esq..
Source: Volume 01, Number 05, June/July 1996 , pp.1-3(3)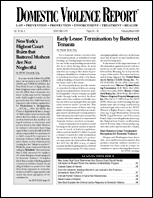 next article > |return to table of contents
Abstract:
The Uniform Adoption Act was overwhelmingly adopted by the National Conference of Commissioners on Uniform State Laws in August 1994 and approved by the American Bar Association in February 1995. It establishes procedures for all phases of the adoption process, and is now available for enactment by states.
Keywords: Professor Joan Hollinger; Domestic Violence Considered in Preplacement Evaluations; Parental Rights Termination for Domestic Violence Conviction; Parental Rights Termination for Physical or Sexual Assault

Affiliations: 1: Associate Editor of DVR.