From the Bookshelf
Author: Joan Zorza, Esq..
Source: Volume 01, Number 06, August/September 1996 , pp.10-11(2)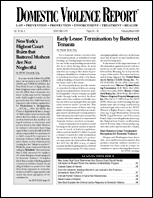 < previous article |next article > |return to table of contents
Abstract:
The following publications are reviewed, the first four under the heading Four New Books for Victims : "The Domestic Violence Sourcebook: Everything You Need to Know", by Dawn Bradley Berry; "Stalked: Breaking the Silence on the Crime of Stalking in America", by Melita Schaum and Karen Parrish; "It's Not OKAY Anymore, Your Personal Guide to Ending Abuse, Taking Charge, and Loving Yourself", by Greg Inns and Jan Black; and "Walking on Eggshells", by Brian Ogawa. Also reviewed is "The Book of David: How Preserving Families Can Cost Children's Lives", by Richard Gelles.
Keywords: Gavin de Becker; Dr. Paul Dietz; easy to use forms

Affiliations: 1: Editor, Domestic Violence Report.