Complete Issue
Author: Joan Zorza, Esq..
Source: Volume 01, Number 06, August/September 1996 , pp.1-16(16)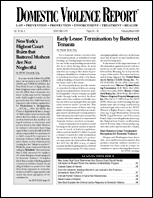 < previous article |return to table of contents
Abstract:
This is the complete issue, Volume 1 Number 6. It includes the full text of all the articles listed above, with hyperlinks from table of contents entries to articles and linked article continuations, to facilitate reading.
Keywords: State v. Steed (NH); Commonwealth v. Beckwith (PA); US v. Dixon and Foster; State v. Peck (Iowa); People v. Davenport (CA); Ellyson v. State (IN); State v. Dively (IN); People v. Pohl (MI); State v. Stallings (MO); Stanley v. State (TX); Ex parte Da

Affiliations: 1: Editor, Domestic Violence Report.