Lethal Families: Not Possible But True
Author: Julie Blackman, Ph.D..
Source: Volume 01, Number 06, August/September 1996 , pp.7-9(3)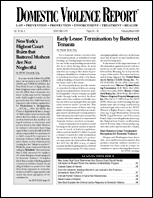 < previous article |next article > |return to table of contents
Abstract:
This first-person article is about something that should not be possible: sometimes, people kill members of their own families. To start to understand, to help stop this violence, we–– the community of concerned professionals––must engage the problems of violent, lethal families. Family violence is so rampant, and widespread that I have come to believe that virtually all persons moving through the criminal justice system are victims. If a history of family violence is exculpatory, and I believe it should be, at least in part, then virtually every defendant deserves a measure of exculpation from the sorry condition into which our society has allowed families to fall.
Keywords: Riker's Island; Bedford Hills; "Intimate Violence"

Affiliations: 1: social psychologist.