Admissibility of Hearsay Evidence Under the Excited Utterance Exception in Abuse Prosecutions
Author: Nancy K. D. Lemon, Esq..; Anne L. Perry, Esq..
Source: Volume 02, Number 03, February/March 1997 , pp.36-40(5)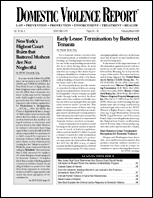 < previous article |next article > |return to table of contents
Abstract:
As prosecution without the cooperation of the victim is becoming more common, courts are beginning to rule on the admissibility of the victim's statements made at the time of the abuse, usually to the responding police officer or medical personnel. Appellate courts are still very divided on when and what evidence they are willing to admit, and for what purposes. This article reports on recent cases, including State v. Eastman (HI); State v. Clark (HI); State v. Moore (HI); State v. Canada (HI); State v. Turner (OH); and State v. Barnies (ME).
Keywords: victim recants; prior abuse; prior testimony

Affiliations: 1: Associate Editor of DVR.