Abuser's Rights Are Narrowly Construed Under Domestic Violence Protection Act: No Visitation Rights for Non-Father
Author: Staff Editors.
Source: Volume 02, Number 03, February/March 1997 , pp.35-35(1)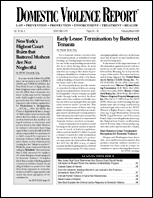 < previous article |next article > |return to table of contents
Abstract:
This article focuses on the background and issues faced in Barkaloff v. Woodward, 55 Cal. Rptr. 2d 167 (Cal. Ct.App. 1996).
Keywords: Virginia Woodward; Robert Barkaloff; Jesus Garcia

Affiliations: .