Texas Stalking Statute Found Unconstitutionally Vague
Author: Staff Editors.
Source: Volume 02, Number 03, February/March 1997 , pp.37-37(1)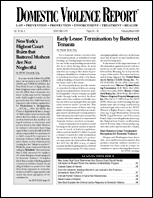 < previous article |next article > |return to table of contents
Abstract:
Raymond Edward Long was convicted under the stalking provision of the 1993 Texas harassment statute for committing three acts constituting stalking on three separate dates. The Court of Appeals had found that the statute was not vague and affirmed the conviction. However, the Court of Criminal Appeals, on a petition for discretionary review, held that the stalking provision was unconstitutionally vague on its face and remanded to the trial court to enter an order dismissing the prosecution. The case is discussed here.
Keywords: Long v. State, 903 S.W.2d 52 (Tex. Ct. App. 1995); Long v. State,1996 WL 512396 (Tex. Crim. App. 1996)

Affiliations: .