From the Bookshelf
Author: Staff Editors.
Source: Volume 02, Number 05, June/July 1997 , pp.75-76(2)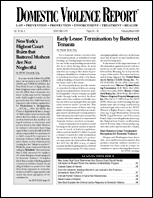 < previous article |next article > |return to table of contents
Abstract:
The following publications are reviewed: "Washington's Address Confidentiality Program: Relocation Assistance for Victims of Domestic Violence", by Jeffrey T. Even; "Divorced from Justice: The Abuse of Women and Children by Divorce Lawyers and Judges", by Karen Winner; "Resistance to Equality", by Elizabeth Schneider; "Domestic Violence and Health Care: What Every Professional Needs to Know", by Sherri L. Schornstein.
Keywords: Assistant Attorney General (WA); Address Confidentiality Program; ACP; "Protecting the Children in Custody Disputes When One Parent Abuses the Other", by Joan Zorza; "Women and Children Last: Custody Disputes and the Family 'Justice' System

Affiliations: .