Recent Cases Around the Country
Author: Staff Editors.
Source: Volume 02, Number 05, June/July 1997 , pp.73-74(2)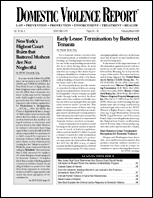 < previous article |next article > |return to table of contents
Abstract:
This column summarizes and discusses recent court cases of interest to readers of DVR, including: In re Heather A. v. L.A. County Dep't of Children's Servs (CA); DiSabatino v. Salicete (DE); H.K. v. Vocelle FL); Rivkind v. Patterson (FL); McCauley v. State (GA); State v. Zichko (ID); Wood v. Wood (IL); Bernard v. Commonwealth (MA); Campbell v. Campbell (NJ); Wilson v. Grant (NJ); State v. Talbot (NC); State v. Collie (OH); State v. Taylor (OH); Commonwealth v. Tourscher (PA) State v. Schaller (WI).
Keywords: exposure to domestic violence supports custody removal; "wife-beating skunk"

Affiliations: .