Complete Issue
Author: Joan Zorza.
Source: Volume 02, Number 05, June/July 1997 , pp.65-80(16)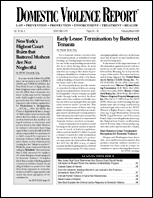 < previous article |return to table of contents
Abstract:
This is the complete issue, Volume 2 Number 5. It includes the full text of all the articles listed above, with hyperlinks from table of contents entries to articles and linked article continuations, to facilitate reading.
Keywords: low incidence of good cause requests; Denver County (CO); double jeopardy does not bar second stalking prosecution; Hedda Nussbaum permitted to sue Joel Steinberg survey of the state's [MA] female AFDC population; "In Harm's Way?: Domestic Viol

Affiliations: 1: Editor, Domestic Violence Report.