Bowker's Response: On the Advantages of a Multidisciplinary Approach to Battered Woman Syndrome in the Courts
Author: Lee H. Bowker Ph.D..
Source: Volume 02, Number 06, August/September 1997 , pp.85-86(2)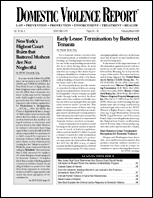 < previous article |next article > |return to table of contents
Abstract:
This article is Dr. Bowker's response to Dr. Jacqueline Keller's rebuttal (above) to Bowker's previous article (cited).
Keywords: conceptual imperialism; People v. Humphrey (CA); necessity of multidisciplinary BWS expertise

Affiliations: 1: Humboldt State University.