A Rebuttal to Lee Bowker's Article on the Battered Woman Syndrome Index
Author: Jacqueline Keller, Ph.D..
Source: Volume 02, Number 06, August/September 1997 , pp.84-85(2)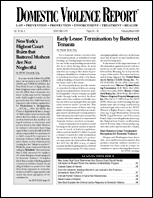 < previous article |next article > |return to table of contents
Abstract:
In the December/January issue of this publication, Dr. Lee Bowker placed forward the Battered Woman Syndrome Index as a "criminal justice system friendly" approach to the identification of women suffering with Battered Woman Syndrome for purposes of planning defense strategies when such women commit acts of violence. "A Criminological Perspective: Redefining "Battered Women" for Use in Legal Proceedings," 2 DVR 17 (1997). While the Index undoubtedly has use as a research instrument for questions concerning group norms, its use for diagnosis of and strategies for individual cases is inappropriate and potentially harmful to the very women it seeks to serve. Dr. Bowker's beliefs about its appropriateness appear to be based upon several misperceptions concerning Battered Woman Syndrome (BWS) and the role of psychological defense in the legal setting.
Keywords: five categories of abuse

Affiliations: 1: California School of Professional Psychology.