Recent Cases Around the Country
Author: Anne L. Perry.; Nancy K.D. Lemon .
Source: Volume 02, Number 06, August/September 1997 , pp.89-90(2)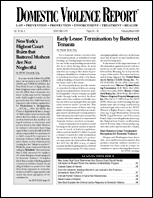 < previous article |next article > |return to table of contents
Abstract:
This article summarizes and discusses recent court cases of interest to readers of DVR, including: Little v. All Phoenix S. Community Mental Health Ctr., Inc. (AZ); Ward v. Ward (FL); State v. Capela (HI); Pagan v. Board of Review (NJ); Sperling v. Teplitsky (NJ); State v. Yaden (OH); Jacques v. Sharp (WA).
Keywords: mental health center may be liable; "cooling-off period" not unconstitutional; unemployment compensation for victims of domestic violence

Affiliations: .