Violation of Restraining Orders As Basis for Burglary
Author: Staff Editors.
Source: Volume 03, Number 01, October/November 1997 , pp.10-10(1)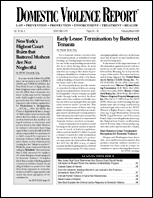 < previous article |next article > |return to table of contents
Abstract:
Several states have recently addressed the issue of whether a violation of a restraining order may be used to satisfy elements of burglary. These cases are discussed here.
Keywords: Commonwealth v. Majeed (PA); People v. Cooper (WI); Hedges v. Commonwealth (KY)

Affiliations: .