Recent Cases Around the Country
Author: Anne L. Perry .; Nancy K.D. Lemon .
Source: Volume 03, Number 01, October/November 1997 , pp.9-11(3)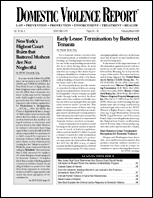 < previous article |next article > |return to table of contents
Abstract:
This column summarizes and discusses recent court cases of interest to readers of DVR, including In Re Sylvia R. (California); State v. Julian (Idaho); Merrimack Mutual Fire Insurance Company v. Coppola (NJ); State v. Hoffman (Wisconsin); Krassnoski v. Rosey (PA); and Beerman v. Beerman (SD).
Keywords: actions violate restraining order but nor harassment statute

Affiliations: 1: Associate Editor of DVR; 2: Associate Editor of DVR.