From the Bookshelf
Author: Joan Zorza.; Nancy K.D. Lemon.
Source: Volume 03, Number 01, October/November 1997 , pp.11-13(3)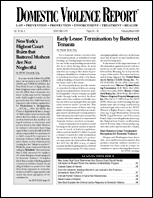 < previous article |next article > |return to table of contents
Abstract:
This column reviews and discusses the following publications: "Intimate Violence in Families", 3d edit., by Richard J. Gelles; "When Parents and Children Lose Contact After Divorce", by Geoffrey L. Greif; "I Love A Cop: What Police Families Need to Know", by Ellen Kirschman; "Women's Encounters With Violence: Australian Experiences", ed. by Sarah Cook and Judith Bessant; "Gender Issues of Elder Abuse", by Lynda Aitken and Gabriele Griffin; "Tolling the Statute of Limitations for Survivors of Domestic Violence Who Wish to Recover Civil Damages Against their Abusers", by Lisa Napoli.
Keywords: Elizabeth Pleck, "Domestic Tyranny"; Judith Stubbs; Northamptonshire, England

Affiliations: 1: Editor, Domestic Violence Report.