The Present and Future of Correctional Health and Mental Health Care
Author: Steven Rosenberg.
Source: Volume 17, Number 05, January/February 2016 , pp.67-72(6)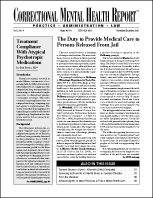 next article > |return to table of contents
Abstract:
While the official recognition that the correctional system is not the best place to treat behavioral health disorders is long overdue, for change to occur our behavioral health care systems and correctional systems must be reengineered to more appropriately respond to the needs of these offenders. This article examines some of the important ways in which health care delivery, reimbursement, and practice is changing in the correctional setting, as jails and prisons recognize the benefits of adopting innovations developed as part of recent health care reforms. As with any large-scale change, there are likely to be both opportunities and challenges. Perhaps the largest challenge will be the entrance of managed care into the correctional space. Until now, the foundations of managed care and of population health, like Big Data, Analytic Heuristics, and technology, have not been part of correctional health care management.
Keywords: Patient Protection and Affordable Care Act; peer mentors; Delivery System Reform Incentive Payments; Certified Community Behavioral Health Clinics; Health and Recovery Plans

Affiliations: 1: Community Oriented Correctional Health Services.