Deadly Force and a "Welfare Search"
Author: Fred Cohen.
Source: Volume 17, Number 05, January/February 2016 , pp.65-67(3)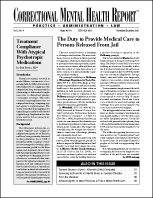 next article > |return to table of contents
Abstract:
This article uses a "use of force" case to examine key issues in how law enforcement and corrections deal with the severely mentally ill, and in particular advocates for better training, diversion for treatment, and use of the "Sequential Intercept Model" of cooperation between uniformed officers and mental health professionals. On March 23, 2015, the Supreme Court of the United States heard arguments in the case of Sheehan v. City and County of San Francisco , 743 F.3d 1211 (9th Cir. 2014). The case has attracted multiple amici curiae briefs, particularly on the application of the American with Disabilities Act (ADA) to police arrests of persons with mental illness. The amicus brief filed in the Supreme Court by the American Psychiatric Association, the Bazelon Center, and several other groups emphasizes the enormous increase in law enforcement's role in responding to a call like that in the Sheehan case. For example, Florida police transport more persons for involuntary mental examinations than they arrest for aggravated assault and burglary. As mental hospitals have closed and community care (however enfeebled) rises in importance, jails become the sites where the mentally ill are first transported.
Keywords: Sheehan v. City and County of San Francisco; Constitutional and ADA Claims; Sequential Intercept Model

Affiliations: 1: Editor.