East Mississippi Correctional Facility Under Major Challenge: Plaintiffs' Experts Survive Disqualification Effort
Author: Fred Cohen.
Source: Volume 17, Number 05, January/February 2016 , pp.69-70(2)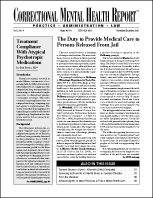 next article > |return to table of contents
Abstract:
Dockery v. Fischer, Civ. Action No. 3:13-cv-326-WHB-JCG (S.D. Miss., Sept. 29, 2015), involves a challenge to certain practices that impact mentally ill prisoners housed at the East Mississippi Correctional Facility (EMCF) which is designed to treat and house mentally ill prisoners. The ruling cited above, and discussed here, relates to a motion for class certification (granted) and to exclude Plaintiffs' medical and mental health experts (denied).
Keywords: Dockery v. Fischer; expert witness qualification

Affiliations: 1: Editor.