Why Battered Women Stay; Why They Leave
Author: Staff Editors.
Source: Volume 06, Number 05, June/July 2001 , pp.69-70(2)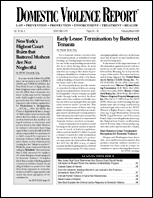 next article > |return to table of contents
Abstract:
Alyce D. LaViolette and Ola W. Barnett have completely rewritten their insightful book, "It Could Happen to Anyone: Why Battered Women Stay", 2nd Ed, and Barnett has supplemented this with a two-part series "Why Battered Women Do Not Leave" in Volume 1, No. 4 (October 2000) and Volume 2, No. 1 (January 2001) of Trauma, Violence, and Abuse: A Review Journal. Elaine Weiss has assembled the stories of twelve women, her own included, who left battering relationships, focusing on what enabled them to leave. In "Surviving Domestic Violence: Voices of Women Who Broke Free" she shows how anyone can be abused, and that the physical and sexual abuse is often far worse than physical
Keywords: breaking isolation key to leaving

Affiliations: .