Dealing With Vulnerable Populations
Author: Staff Editors.
Source: Volume 06, Number 05, June/July 2001 , pp.70-71(2)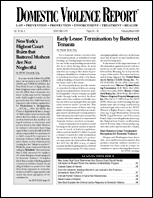 next article > |return to table of contents
Abstract:
This column reviews "Handbook of Social Work Practice With Vulnerable and Resilient Populations, 2nd Ed., Edited by Alex Gitterman. It is not a book primarily devoted to our issues, but DVR feels it is important to bring it to our readers' attention. Unlike most textbooks that touch on domestic violence issues, this one does it with insight, compassion and current knowledge. It also reviews the video,"Charting New Waters: Responding to Violence Against Women With Disabilities".
Keywords: Power and Control Wheel

Affiliations: .