From the Literature
Author: Nancy K. D. Lemon, J.D..; Joan Zorza.
Source: Volume 07, Number 03, February/March 2002 , pp.41-42(2)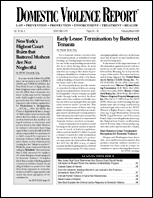 < previous article |next article > |return to table of contents
Abstract:
This column reviews recent publications: "Stalking and Domestic Violence: Report to Congress" and "Dealing With the Nastiness: Mixing Feminism and Criminal Law in the Review of Cases of Battered Incarcerated Women— A Tenth-Year Reflection", by Linda L. Ammons; and the on-line publication by Nancy E. Isaac and V. Pualani Enos, "Documenting Domestic Violence: How Health Care Providers Can Help Victims".
Keywords: Violence Against Women Office of DOJ; Fair Housing Act; NOW Legal Defense and Education Fund

Affiliations: 1: Associate Editor of DVR; 2: Editor, Domestic Violence Report.