Health Watch
Author: Staff Editors.
Source: Volume 07, Number 03, February/March 2002 , pp.40-41(2)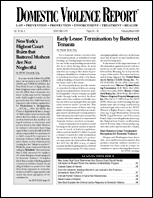 < previous article |next article > |return to table of contents
Abstract:
This column reviews two new studies written up in the November 2001 issue of Violence Against Women on different aspects of marital rape.
Keywords: "Marital Rape" by Mary Kay Kirkwood and Dawn K. Cecil; and "Violence, Injury, and Presentation Patters [sic] in Spousal Sexual Assaults" by Lana Stermac, Giannetta DelBove and Mary Addison

Affiliations: .