Assessing Risk to Children From Contact With Batterers
Author: Lundy Bancroft.
Source: Volume 07, Number 04, April/May 2002 , pp.49-52(4)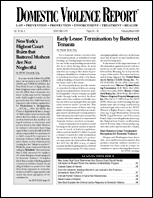 next article > |return to table of contents
Abstract:
Public and professional awareness is rapidly growing regarding the serious psychological and physical harm that batterers can cause to children. At the same time, a battered mother who escapes from abuse is likely to find that most courts give the batterer unsupervised access to her children, or even grant him custody, and child protective services may do nothing to stop this from happening. There is thus an urgent need for domestic violence professionals to develop sophisticated tools for assessing risk to children from contact with batterers, and impress upon courts and child protective personnel the importance of using them.
Keywords: approaches to risk assessment; undermining mother-child relationship

Affiliations: 1: batterer intervention specialist and Guardian ad Litem.