Symposium on Integrating Responses to Domestic Violence
Author: Nancy K.D. Lemon, J.D..
Source: Volume 07, Number 04, April/May 2002 , pp.49-54(6)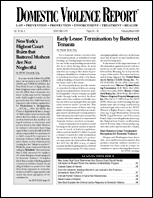 < previous article |next article > |return to table of contents
Abstract:
A 2001 symposium issue of the Loyola Law Review contains the proceedings of a two and a half day symposium on domestic violence held in October 2000 at Loyola Law School in New Orleans. The event was co-sponsored with the Loyola Women's Center by Mary Kay Inc. and the ABA Commission on Domestic Violence. The over 300 attendees included lawyers, counselors, law enforcement personnel, law students, social workers, law professors, and victims. The articles it generated are summarized and discussed here.
Keywords: US v. Morrison; Glenny Warzeski; Isabel Medina; Patricia Tjaden; James T. R. Jones; integrating domestic violence into law curriculum; Erica Beecher-Monas; Sharon G. Portwood, John Q. LaFond, and Kelly E. Kinnism; Barbara Stark; Jerry J. Phillips; L

Affiliations: 1: Associate Editor of DVR.