Complete Issue
Author: Joan Zorza, Esq..
Source: Volume 07, Number 05, June/July 2002 , pp.65-80(16)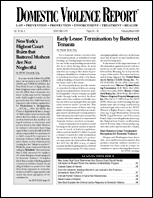 < previous article |return to table of contents
Abstract:
This is the complete issue, Volume 7 Number 5. It includes the full text of all the articles listed above, with hyperlinks from table of contents entries to articles and linked article continuations, to facilitate reading.
Keywords: Effects of Witnessing Versus Effects of Removal; National Council of Juvenile & Family Court Judges; Military Protective Order; O'Neill v. U. S.; LaFrancis v. U.S.; "Improving the US Armed Forces Response to Violence Against Women: Recommendation

Affiliations: 1: Editor, Domestic Violence Report.