Study Provides Tools to Assess When Stalking Behaviors Will Lead to Escalation of Violence: Batterers' Stalking Patterns
Author: Ann W. Burgess.; Holly Harner.; Timothy Baker.; Carol. R. Hartman.; Christopher Lole.
Source: Volume 07, Number 05, June/July 2002 , pp.73-73(1)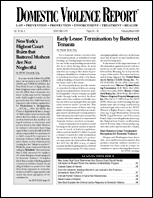 < previous article |next article > |return to table of contents
Abstract:
This exploratory research study builds on earlier research by the primary author in the development of models of stalking behavior. Using a sample of convicted domestic violence offenders (mostly men) attending a mandatory treatment assessment program, factor analysis was used to cluster reported stalking behaviors into specific patterns. In the Ambivalent Contact Pattern, estranged partners tended to contact their partners at home, at work, and in public places; send flowers or contact partners' friends or family; and send letters and watch their partners surreptitiously. In the Predatory Contact Pattern, they made hang-up calls, threatened to cause harm, threatened to kill their partners, entered their partners' homes without permission, followed their partners' cars, and physically harmed their partners. The results demonstrate the importance of carefully assessing predatory stalking behaviors. The authors present suggested assessment questions for clinicians, which can be valuable tools for anticipating the escalation of stalking into violence.
Keywords: relationship between battering and stalking

Affiliations: .