Red, White, Black and Blue: A Review of the Defense Task Force on Domestic Violence
Author: Eve Darcy (not her real name).; Kate Summers.
Source: Volume 07, Number 05, June/July 2002 , pp.65-68(4)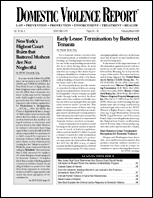 < previous article |next article > |return to table of contents
Abstract:
This article reviews the Defense Task Force on Domestic Violence, including its first year findings, recommendations, initial report and implementation of its recommendations. It also provides a historical perspective and context for domestic violence within a special population, the military community. It begins with a first-person account of a case of domestic violence in a military context.
Keywords: Military Protective Order; O'Neill v. U. S.; LaFrancis v. U.S.; "Improving the US Armed Forces Response to Violence Against Women: Recommendations for Change"; "Violence Against Women Associated with the Military"

Affiliations: 1: survivor of domestic violence within the military community; 2: Advocacy Director at The Miles Foundation.