What Dentists Have to Say About Domestic Violence
Author: Nancy K. D. Lemon, J.D..
Source: Volume 07, Number 05, June/July 2002 , pp.67-69(3)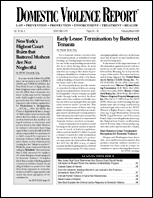 < previous article |next article > |return to table of contents
Abstract:
Health Watch has usually covered responses to domestic violence by primary care physicians and emergency room personnel. However, dentists and maxillofacial (jaw, mouth, and nose) surgeons also may encounter many victims of domestic violence with head, facial, and oral injuries. The column summarizes four articles involving the role dentists can play in recognizing and monitoring domestic violence.
Keywords: "Dentistry's Role in Family Violence Prevention", by Dr. Lynn Douglas Mouden; "Dentists' Attitudes and Behaviors Regarding Domestic Violence: The Need for an Effective Response", by Drs. Love, Gerbert, Caspers, Bronstone, Perry, and Bird

Affiliations: 1: Associate Editor of DVR.