Batterers' Approaches to Retaliation Through Litigation
Author: Anne L. Perry, Esq. .
Source: Volume 08, Number 04, April/May 2003 , pp.55-56(2)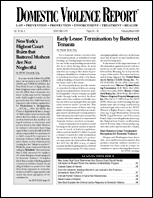 < previous article |next article > |return to table of contents
Abstract:
Some courts are permitting batterers to use the legal system to retaliate against their victims, or even to take offensive actions challenging aspects of a state's domestic violence laws or funding. This article discusses three recent cases: Alexander v. Alexander, 567 S.E.2d, 211 (N.C. Ct. App. 2002); Bozman v. Bozman, 806 A.2d 740 (Md. Ct. App. 2002); Booth v. Hvass, 302 F.3d 849 (8th Cir. 2002).
Keywords: malicious prosecution claim for seeking protective order; interspousal immunity; Constitutionality of Domestic Abuse Statutes Providing Funds to Battered Women.

Affiliations: 1: Associate Editor of DVR.