Complete Issue
Author: Joan Zorza, Esq..
Source: Volume 08, Number 04, April/May 2003 , pp.49-64(16)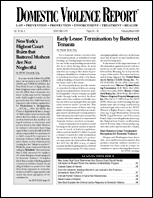 < previous article |return to table of contents
Abstract:
This is the complete issue, Volume 8 Number 4. It includes the full text of all the articles listed above, with hyperlinks from table of contents entries to articles and linked article continuations, to facilitate reading.
Keywords: "friendly parent: provisions; reform the guardian ad litem system; malicious prosecution claim for seeking protective order; interspousal immunity; Constitutionality of Domestic Abuse Statutes Providing Funds to Battered Women.

Affiliations: 1: Editor, Domestic Violence Report.