Custody, Domestic Violence and a Child's Preference
Author: Judith M. Reichler .; Nancy S. Erickson.
Source: Volume 08, Number 05, June/July 2003 , pp.65-67(3)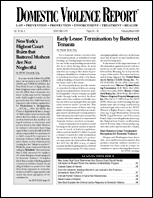 next article > |return to table of contents
Abstract:
The Appellate Division, Second Department, recently decided Wissink v. Wissink, 749 N.Y.S.2d 550 (2d Dept. 2002), which it called "a vexing custody dispute over a teenaged girl who has expressed a clear "preference to live with her father." The case is discussed here.
Keywords: land mines in interpersonal violence

Affiliations: 1: Family Violence Task Force; 2: Legal Services for New York City.