Complete Issue Special issue on Strangulation
Author: D. Kelly Weisberg.; Gael Strack.; Casey Gwinn.
Source: Volume 19, Number 06, August/September 2014 , pp.81-100(20)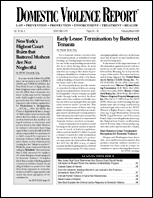 < previous article |return to table of contents
Abstract:
We are delighted to present this special issue on strangulation, a topic of great interest because of the high lethality of these cases, the profound consequences for survivors, and the challenges for law enforcement. We are especially pleased to welcome Gael Strack and Casey Gwinn as Guest Editors. These two former prosecutors are leading national experts on strangulation as well as founders of the Family Justice Center movement. This is the complete issue, Volume 19 Number 6. It includes the full text of all the articles listed above, with hyperlinks from table of contents entries to articles and linked article continuations, to facilitate reading.
Keywords: Strangulation and Intimate Partner Violence

Affiliations: 1: Editor, Domestic Violence Report; 2: Guest Editor (Alliance for Hope); 3: Guest Editor (Alliance for Hope).