Why Didn't Someone Tell Me? Health Consequences of Strangulation Assaults for Survivors
Author: Casey Gwinn, J.D..; Gael Strack, J.D..; Dr. Dean Hawley.; Dr. William Green.; Dr. Bill Smock.
Source: Volume 19, Number 06, August/September 2014 , pp.87-90(4)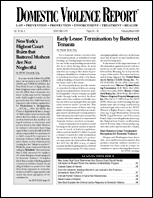 < previous article |next article > |return to table of contents
Abstract:
Even in the face of all these clear, long-term medical and mental health issues from strangulation assaults and repeated acts of domestic violence, most victims still do not receive necessary care. It is important for professionals to follow-up with victims, clients, and patients. They should be informed about the consequences of strangulation, encouraged to seek medical treatment, and evaluated for delayed symptoms. This article differentiates the types of obstruction of oxygen delivery, symptoms, assessment methods, and resulting injury.
Keywords: Maine Coalition to End Domestic Violence statewide survey; Georgia Coalition Against Domestic Violence survey; suffocation

Affiliations: 1: Family Justice Center Alliance; 2: Family Justice Center Alliance; 3: Indiana University School of Medicine; 4: California Clinical Forensic Medical Training Center ; 5: University of Louisville School of Medicine.