Investigation and Prosecution of Strangulation Cases
Author: Casey Gwinn, J.D..; Gael Strack, J.D..; Gerald W. Fineman, J.D..; Det. Michael Agnew (Ret.).
Source: Volume 19, Number 06, August/September 2014 , pp.83-89(7)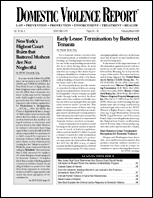 < previous article |next article > |return to table of contents
Abstract:
This article will touch on a few key elements of the investigation and prosecution of strangulation cases. Many cases can be proven even without the testimony of the victim if a thorough investigation has been done at the scene and on follow up. From employing proper terminology to to documentation of all facets of the incident to case preparation and trial strategies the authors present best-practices techniques for effective evidence-based prosecution.
Keywords: specialized domestic violence reporting forms as a supplement to the narrative report; vocabulary when properly prioritizing strangulation assaults; forensic examination; law enforcement strangulation training; likelihood of conviction; dominant aggr

Affiliations: 1: Family Justice Center Alliance; 2: Family Justice Center Alliance; 3: Riverside County District Attorney's Office.