Strangulation and Domestic Violence: The Edge of Homicide
Author: Casey Gwinn, J.D..; Gael Strack, J.D..
Source: Volume 19, Number 06, August/September 2014 , pp.81-83(3)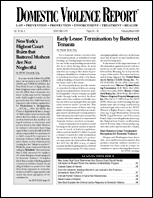 < previous article |next article > |return to table of contents
Abstract:
Today, it is known unequivocally that strangulation is one of the most lethal forms of domestic violence. Strangulation is clearly the edge of a homicide. Unconsciousness may occur within seconds and death within minutes or less. Never again should an allegation of strangulation be ignored or minimized. When the victim says "he choked" me, alarm bells should go off and red flags should be waiving for every professional in every case.
Keywords: deaths of Casondra Stewart and Tamara Smith; one of the best predictors for the subsequent homicide of victims of domestic violence; improperly referred to as choking

Affiliations: 1: Family Justice Center Alliance; 2: Family Justice Center Alliance.